Tzoumerka Activities Center created in a beautiful village of Agnanta in Epirus.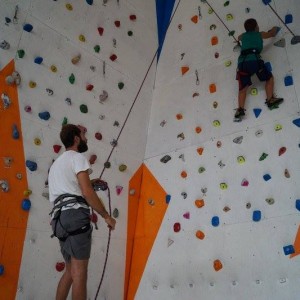 We are located next to the High School  of Agnanta.
See the

map

.
We are 55 kilometers from the city center of Arta and the city center of Ioannina, about 1 hour 10 minutes by car.
Our place is fenced and secure.
After consultation with the secretariat carried out:
– School Excursions
– Hourly renting space or part of a restricted or outdoor event
– Guided days in mountaineering, climbing, mountain running, cycling, skimountaineering either in groups or individually.
– Training fields for professional and amateur teams.
We offer:
– Parking area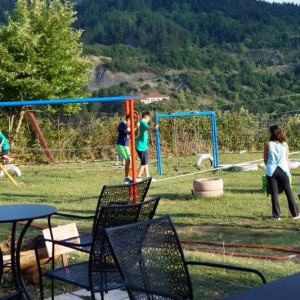 – Indoor climbing wall 150sqm
– Room with fitness equipment and weights machines
– Games for group programs
– Room with table tennis
– Separate men – women changing rooms, each with its own Sauna
– Outdoor lawn and garden
– Area for archery
– Children's arena with obstacles
– Outdoor circular mountain bike trails (bike park), for beginners and experienced riders length 300 and 400 meters respectively
– Field with sand, dimensions 20X10 measures for beach volley, beach soccer and beach tennis
– Refreshment room with snack bar, coffee and refreshments
We provide: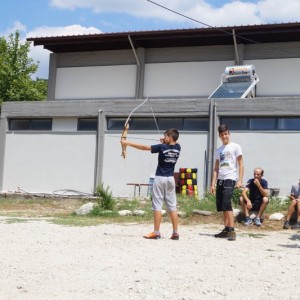 – Demonstration of climbing 10 minutes, for children and adults, by a professional climber
– Climbing for you and your children for one hour under the guidance of our experienced staff
– Climbing Games and relay in a specially designed area of ​​the climbing room, always under the supervision of our experienced staff
– Entertainment program designed for children at the outdoor playground
– Guidance to individual aerobic fitness programs and resistance (weights)
– Guidance in group programs of traditional dances and aerobic fitness
– Guidance on issues to improve your skills in riding mountain bike
– Guidance on issues to improve your skills in archery
– Hourly rental bicycles for use in our specially designed routes
– Hourly rent land to provide ball and badges
– Hourly rental Sauna
– Information and guidance for hiking, cycling, mountaineering, climbing, ski mountaineering in the mountain region.