The School of Mountaineering (mountain hiking) Beginners consists of two distinct sections: simple hiking and winter hiking. The aim of education is to provide all participants the necessary knowledge and experience to be able to move independently in easy field that does not require technical insurance.
Participation in schools have all those who fulfill the following conditions: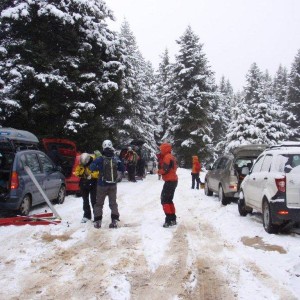 a. It is over 18 years.
b. Medical fitness attested by a medical certificate of good health. The certificate must be issued 60 days at most before the date of application monitoring faculty of General Medicine doctor or GP or cardiologist.
c. they are insured – special insurance against accidents during the period that lasts the school.
d. Apply the encompassing name form – sheet – date and place of birth – nationality – home address and blood group.
The application is accompanied by a photograph (passport type) and photocopy of identity card (both sides) of candidate.

Education Content
Movement in dry field – Equipment – use – maintenance -Kinisi snow – Use ice ax -krampon – Falling snow and pago- Prosanatolismos- Preparation and execution path – Qualities snow – avalanches – Risks mountain and addressing their -History mountaineering (Greek -pagkosmia) – Nutrition – First Aid mountain – Mountain environment (geology, flora, fauna, protection) – Mountaineering ethics and moral -Addressing emergencies.

Schedule
– Registration and collection of documents until Thursday: 10/12/2015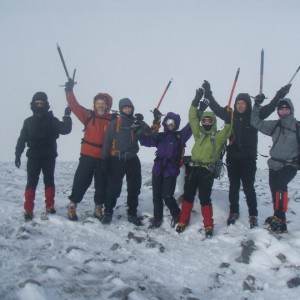 – Courses January to April, every Saturday and Sunday in Tzoumerka climbed the peaks of the region Strogoula, Rocket, Gerakovouni, Katafydi.
Also crossing Kalarrytes-Syrrako crossing Kakarditsa, Peristeri, accommodation in a shelter.
Cost of a daily lesson 40 €.
Cost 8 lessons daily 240 €.
A limited number of participants (5-10 people).
Closing of position for the 8 daily subject in a recording and deposit 100 €

Trainers
With faculty cooperate certified instructors and assistants mountaineering instructors.

Conditions for participation

1) The operator of the school reserves the right to discontinue education a participant who does not comply to the instructions of the instructors during the crisis, the behavior can endanger the life of that or the other.
2) If the student is unable to attend the last day of school, she must return the equipment and deliver the person in charge of the faculty by him within 10 days.
3) The program depends on weather conditions and may be amended at the discretion of the responsible faculty if this is necessary for the safety of participants and the smooth running of the school.
The equipment provided by the school:
✓ Alouminogonies (locking materials in snow)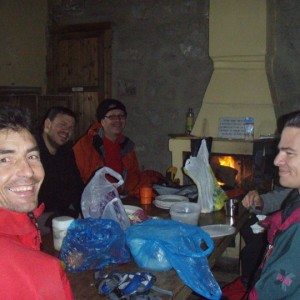 ✓ Dynamic rope 50-60m (1 per 3-4 people)
✓ Static strap 170cm (2)
✓ safety carbines (2)
✓ carbines single (1)
Individual equipment to obtain participants
✓ ax (1)
✓ Crampons (1 pair)
✓ Antistoumpotika snow on crampons (1 pair)
✓ waterproof boots (rigid or semi-rigid to take crampons)
✓ Socks for winter mountain (2 pairs)
✓ Tees Up / Down (1 pair)
✓ Jacket fleece (polartec)
✓ windproof / waterproof jacket & pants
✓ waterproof gloves (two pairs)
✓ or Balaclava Beanie (hat full-face)
✓ Gaiters (1 pair)
✓ Backpack 35-50lt
✓ head Lens (+ spare batteries)
✓ Bottle 1-1,5lt / or Thermos 0,5-1lt (for hot drink)
✓ Alouminokouverta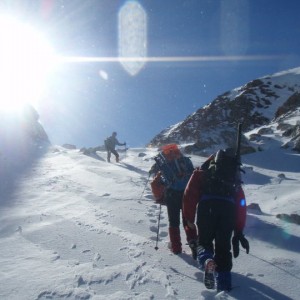 ✓ Sunglasses
✓ Mask storm (ski mask)
✓ Compass (type Sylva)
✓ Maps (versions "Ascent")
✓ Knife (Light), lighter and matches, Whistle
✓ Energy bars 1200 kcal (emergency food)
✓ Sleeping bag
Pharmacy (individual)
✓ Elastic bandage width 6 cm kai12cm
✓ Adhesive tape (patch)
✓ Antiseptic (bedadine), Painkillers (depon)
✓ Gauze 15x30cm (3-4 pieces)
✓ Sun cream & lipstick
✓ Personal medications
Transportation – Accommodation

Access to training facilities is usually done by private means (IX) of the learners, which, upon request, picked 3-4 people so they can share and fuel costs, tolls etc.
The accommodation is usually in mountain refuges.
Screenshots from education

See highlights from the training of 6 EMAK.